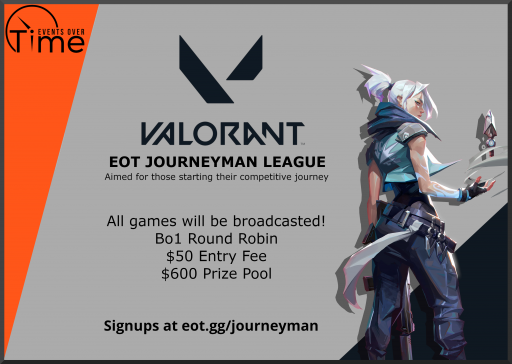 EOT's first online season league – dedicated to the development and expansion of teams looking to improve over a period of time.
The season will run from March the 2nd onwards, with Bo1 Round Robin Group Matches being played over seven weeks, before double elimination finals.
This means you will get minimum seven matches, and you will only need to commit one hour a week for a match – either a Tuesday or Wednesday!
Prizepool will be minimum 75% of the total registration cost of teams that have signed up and are committed to playing out through the season.
Tournament will be run with a minimum of eight teams signing up – so don't miss out.
We are aiming to broadcast every game of the season starting from March the 9th.
Entry fee for teams – $50
Join our Discord community here! Captains will be required to join.
| | | | |
| --- | --- | --- | --- |
| Standings | Points | Wins | Losses |
| TBA | | | |
| TBA | | | |
| TBA | | | |
| TBA | | | |
| TBA | | | |
| TBA | | | |
| TBA | | | |
| TBA | | | |
Week 1 – March 2nd/3rd
Tuesday, March 2nd
7PM – TBA vs TBA
8PM – TBA vs TBA
Wednesday, March 3rd
7PM – TBA vs TBA
8PM – TBA vs TBA
Teams currently signed up
McTeam – Jamie, McThick, McThin, McGary, Noisia
Team iQ – tikal, aria, pyua, BunX2, Kyuu
Sanguine – yvonderkid, Hazz, Flxu, Buddhaman, dee, Omneh, Aplo
Nebula – Akraken, Jesse, Minimise, Rurlz, Dragon
Friendings – Sommboi, Stranger, Motion, Lst, Zyphex